Character Education & Learning Systems
By Dr Charles Margerison
Psychologist
Introduction
Technology is transforming classroom education. New hardware and software emerge each year. The following are examples, but each one needs creative content to inspire students to learn with and from each other. In reviewing technology developments, below I outline two important applications related to character education.
Learning Systems State of Play
Microsoft have published Classwork, which enables educators to develop lesson plans and present both content and exercise assignments to students. Google Classroom enables educators to streamline their classroom presentations and manage student assignments, inclusive of providing feedback.
Schoology is a well-established learning management system that provides educators with data on real time events, such attendance through to assignments and assessments. Canvas is an LMS that enables educators to integrate the structure of a course with the content and see the students responses as a basis for assessment and feedback.
Socrative is one of a number of online tools that enables the educator to engage with the students to gain feedback on their progress.
Achievement Education Resources
We are developing education resources that fit all of these innovative technologies by working with teachers to provide the creative content they can use in their classrooms.
In particular, we have focussed on helping students to understand the ways and means by which they can improve their self-development and achievement.
We have developed two important educational resources that support educators and students on how they can improve achievement.
Exemplars – It is important that students can learn from amazing people from history who have made outstanding contributions to science, medicine, engineering, music, business, literature, exploration, art, technology and other areas. We have therefore created the website – www.amazingpeopleschools.com
This helps educators and students to focus on developing character strengths and bolster wellbeing. In particular, the resources provides life stories of achievements by role models from whom students can learn. For example, students can learn from the processes used by Marie Curie, the only woman to win two Nobel prizes in Science, despite facing many personal challenges in her life. They can gain insights into how Thomas Edison, who had little formal education due to being profoundly deaf, was able to make technical breakthroughs and register over 2000 patents. Students can learn from Harriet Tubman who escaped slavery and became a civil rights leader. These are all inspirational exemplars of achievement ad good character.
Can Do Spirit – In the study of over 500 amazing achievers, I noted that beyond intelligence, education, money and creativity, amazing people developed a 'can do spirit.' This reflected their purpose and determination to convert ideas into successful applications.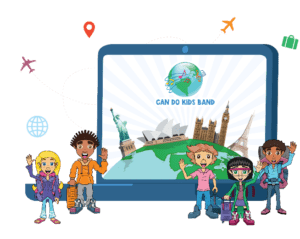 Therefore, we have created another educational resource that helps educators encourage students to improve their 'can do spirit'. This is done through a virtual travel resource, where five teenage students from India, South Africa, Australia, China and USA form a touring music group. They have the 'can do spirit' approach, and help students to learn about people in different countries and cultures.
The website www.candokidsband.com provides the platform from which students can travel around the world.
Active and Participative Lessons
The third element in addition to technology and creative content, is active learning. We have developed lesson plans that enable students to learn via small group discussions.
It is through discussions between students that they develop their linguistic understanding. As they share and compare views, students improve their ability to converse and learn with and from each other.
An example of a 45 – 60 minute lesson that facilitates learning through discussion, based on the resources we provide and linked to modern classroom technology, is as follows.
Lesson Timetable Example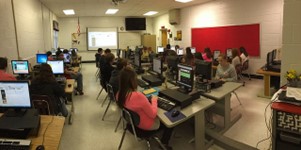 Introduction – 5 minutes – Educator outlines the topic and shows the layout on one of the learning technology systems described above.
Video – 5 minutes – A video that we have provided on a curriculum topic is shown. For example, this can be 'Can Do Kids Band visit Australia' or France or China  -as a basis for group discussions on the countries and their people.
Discussions – 15-20 minutes – Students assigned to small groups of between 4 – 6 per group. Each group to appoint a chairperson and notetaker to discuss what they would like to see and do in the country being discussed, and explain why.
Presentations – 15-20  minutes – Each group presents their views.
Summary – 5-10 minutes – Educator reviews the key points and adds views and assignments as required.
Overview
The fast pace of learning will increase as the link between new technology and new participative methods increase. This article outlines ways and means for the integration of creative learning processes with the online learning systems. It is important that students have the opportunity in classrooms to learn with and from each other through discussions and via small groups. In that way, they will develop their interpersonal problem solving skills.